SKULL CLOTHING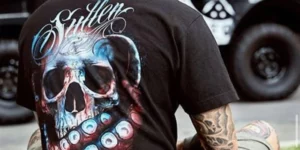 The best Skull Clothes you will find in France are at Crâne Faction. Come and find the style that best represents you thanks to our panoply of skull clothes  for a guaranteed demonic look!
OUR CLOTHES WITH SKULLS  💀
Each of our skull-patterned clothes  are carefully selected to offer you only very long-term resistant clothes with a 3D digital printing design for a stunning effect! Whether you are looking for:
Gothic Sweatshirt
Rock Cap
Skulls T-Shirt
Biker Leather Jackets
Punk Cap
You will surely find what you have been looking for for a long time! And let us tell you a little more:
UNPRECEDENTED STYLE
It is obvious that the habit makes the monk. That's what we think at Skull Faction. For what ? Because the garment you wear gives people the ultimate power to judge you at first sight. And wearing a  garment with a skull is the assurance of giving off a charisma that few other types of clothing have the power to offer. 💪
Our community is filled with people looking for a different, sometimes quirky look to get out of the matrix and the monotony of most people's lives. If you also want to live in wide open spaces and escape from this world full of people who are not very open-minded, then you've come to the right place!
SKULL CLOTHING FOR WOMEN  😈
The easy stereotype is to think that skulls are only made to be worn by men. This is obviously completely false! The women wearing our t-shirts, sweatshirts, caps have a field day and when they send us their photos, we understand why! The quirky style of skulls is welcome for every woman in this world. Whether you're a goth, a rocker or a fanatic of two-wheeled mechanics, your  clothes with a skull will always be there to support you in your quest for freedom.
SKULLS CLOTHING FOR MEN
Life is short, the man wearing any of our creations understands that. They are intended for the freest of spirits who are constantly in search of freedom and power. Adopt yours and finally become master of your destiny for eternity.
Our grim reaper skull t-shirts are the most popular designs in this collection. The unique and completely quirky style that the Soul Reaper offers happens to be in the hearts of our Rebels. Take the first step towards her too to be sure to be welcomed in hell as you have wished since your birth!
Distinguished bikers always find themselves by force of circumstance in the collection of  leather jackets  and you'll quickly understand why when you take a look. The symbols of Indian skulls, Sons fo Anarchy or the Ace of spades accompanied by a skull come to set fire to the roads of the whole world on jackets worn only by cold-blooded men.
Affichage de 1–9 sur 77 résultats