SKULLPOSTER
A true death enthusiast won't settle for just a single poster, no matter how beautiful and high-quality it may be. Choose at least two to ensure you make an impact when your friends enter your home! Select them carefully; the Grim Reaper might be drawn to your demonic tastes…
OUR SKULL DESIGN POSTERS 💀 Skulls are now an integral part of our culture, no longer seen as dark symbols of death and misfortune as they were for centuries. They're everywhere now, much to our delight! Home decor is no exception. That's why this collection is sure to delight you. 👻
One of the best ways to embrace it is undoubtedly by choosing a decorative item with a skull. In this collection, we offer over 50 models of metallic skull posters for an atmosphere straight from hell. We've collaborated with the most diabolical designers to bring you these fantastic skull designs. So, choose yours now and finally showcase a skull right in the middle of the largest wall in your living room! The devil himself will thank you.
MEXICAN SKULL POSTERS The colors of Mexico reach into your living room! The culture of Mexican skulls is making waves and has completely invaded our Western decorations. If you're sensitive to the stories and legends of these mysterious skulls, if you also celebrate our departed ancestors, then our creations are made for you. Find them in a multitude of designs our creators have crafted for the most fanatical. 👊
And if you're not moved by these stories and legends, the beauty of our skull posters will still captivate you. The devilish style of some even sends shivers down the spines of the toughest members of our community. Goths thank us every day for offering them original decorations that are especially hard to find in stores. And metalheads revel in displaying these posters all around their abodes!
DEADLY DECORATION 😈 Is your wall lacking charm? Do you want decor that reflects your personality? Can't find devilish enough decorations in stores? Then this extraordinary collection is made for you!
We went all out on some designs. Some say our skull posters are way too eerie, and to be honest, that's the best compliment we could receive! The less it pleases the people of this world, the more it pleases the people of OUR world! So join the movement by adopting yours and impress all your pals.
On the same theme, we also offer a collection of skull throw blankets! These magnificent decorative collectibles are meant to be displayed in a prominent room in your home. Make good use of them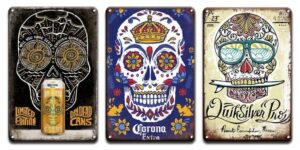 Affichage de 1–9 sur 31 résultats