SKULL MASKS
Are you looking for the perfect costume for Halloween or just for a themed party? Don't hesitate for a moment and let yourself be tempted by one of our Skull Masks. And if you're looking for a stylish look on the street to protect yourself from Covid, we obviously have what you need, young rebel.
OUR SKULL MASKS 💀
Choose the skull mask that best suits your personality before engaging in real, wild, and unforgettable airsoft or paintball matches! Experience adrenaline-filled moments and surprise your opponents or friends with your skull-shaped mask that is surprisingly realistic… It's the essential accessory for all men wishing to have a face that seems to come from hell.
We offer a wide range of fabric masks to fulfill your wildest desires. Our designers have come together several times to present you with this truly extraordinary collection. Our items are adult-sized but can also suit the most terrifying children on this earth. Hold on tight and show the rest of the world your true personality.
WEAR A SKULL MASK TOO
Let's not lie to ourselves; this type of mask is not for everyone. It's not for the faint-hearted, not for fragile men. We're talking about those who dream of total freedom, who don't care about the opinions of others, and if you're reading these lines, it's undoubtedly because you're one of the darkest souls the earth has ever known… 😵
So take the step towards one of them and finally become the free spirit you want to be. The opinions of others are of no importance to you, and we understand that! That's why wearing a terrifying mask doesn't scare you. Adopt one of our models and proudly display an icy smile to everyone you meet.
DEMONIC PROTECTION 😈
Our masks protect you in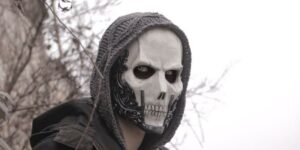 a completely devilish way… Why wear a completely ordinary and charmless accessory when you can adopt an extraordinary style in just a few clicks? So take the plunge, choose the one that seems the most terrifying to you, add it to your cart, go through the hellish checkout, and wait patiently for your package on your couch. The Grim Reaper may even come to deliver it to you herself…
The vast majority of our protective masks are made of cotton and polyester, providing optimal comfort for the entire time you wear it on your face. They are all washable and reusable, much better than a simple blue paper… You now have all the cards in hand to become the most stylish person in town and to make your enemies retreat at the slightest glance. It's your move!
You can pair it with a superb skull patch to further perfect your gothic look with unique and devilish accessories.
7 résultats affichés