Skull Belt
Instead of wearing an ordinary belt, as one sees every day, why not take the opportunity to perfectly match your style and wear a real Skull Belt?
OUR SKULL BELTS 💀 Our Skull Belts are easy to use, highly durable, but most importantly, they come with an aggressively stylish edge! They are designed for true Rock, Metal, or the most rebellious Punk enthusiasts. Choose your model and don't hesitate to get rid of what used to be your belt to replace it with this true weapon of mass destruction!
No need to explain, these models straight from the flames of hell are not made for everyone… These skull belts bring an absolutely demonic style to anyone who dares to wear them around the waist, and that's exactly why we love them. It's high time you also choose the one that suits you the most from our range. Most of them are made of leather to ensure elegance is the keyword for your hardened biker look.
SKULL BELTS FOR MEN Our belts are primarily made to please the male audience. The skull symbol is synonymous with power, strength, and respect. These are the values that make you the person you are. So if you resonate with this message, one of them is made for you, so don't abandon it! 😈
Bikers are the most fanatic about our items, especially accessories like these belt models. And rightly so, you wouldn't ride your bike without putting on your gloves. It's the same when you wear jeans; it wouldn't cross your mind not to arm them with a belt buckle. And while you're at it, the skull symbol must be present.
SKULL BELTS FOR WOMEN 💁‍♀️ Ladies, we haven't forgotten you! The warhorse of these gentlemen is not exclusively reserved for them, and the same goes for belts with a skull… All our models are therefore perfect for the toughest and most gothic women our planet has. Choose yours carefully; it will serve you for years.
Because every Reaper enthusiast is far from ordinary, your shoes must also be extraordinary. That's why we have gathered all the most beautiful models in our collection focused on skull shoes. Adopt them too for a completely deadly style. Sneakers support your biker-goth style, making you the assertive person you are. Just like our belts, they are not made for everyone… Only for spirits in search of freedom!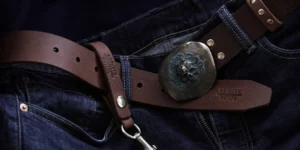 8 résultats affichés