CRYSTAL SKULL
Whether they are Mayan or Aztec, crystal skulls have traversed the ages and continue to fascinate. Discover the most beautiful among them on Skull Fashion. This collection offers you decoration that is both colorful and spiritual!
OUR CRYSTAL SKULLS 💀
The reputation of crystal skulls worldwide is well established. These representations of human skulls in rock crystal are highly sought after by antiquity enthusiasts. But not only that! They have also won the hearts of the most fanatical fans of decorative objects with a spiritual dimension. That's why they are so popular today. 😎
Esoteric enthusiasts cannot fully live their passion without paying special attention to these extraordinary skulls. The history of these skulls dates back hundreds of years when people carved crystal to reveal the shape of their ancestors' heads. Scientists unanimously agree: there are still hundreds underground waiting to be discovered!
But for us, there's no question of waiting for new crystal skulls to be found! That's why we created this collection bringing together a multitude of small skulls to adopt for a decoration that is just as spiritual as it is colorful.
ROCK CRYSTAL SKULL
The legends surrounding these small skulls are numerous. Indiana Jones made them his obsession, drawing inspiration from the story of the 13 crystal skulls and the legends forged over centuries. Real antique pieces that people have been collecting for hundreds of years. These pieces made of rock crystal continue to make headlines and pique the curiosity of the most passionate! 😈
This tradition of making crystal skulls dates back more than 4,000 years, and according to specialists, they conceal information about the origin of our existence. The Mayan tribes made them their powerful emblems and kept them in their homes as symbols of prosperity and well-being.
POWERFUL SPIRITUAL DECORATION 🙏
Whether you believe in these legends or not is up to you. But one thing is certain: no one will remain indifferent to these lovely little crystal skulls. They provoke questions from everyone and just wait for people to talk about them. The universe of the 12 worlds and its richness awaits you to take the first step. Choose yours and feel the power of this divine object!
Most of them are multicolored skulls, adding a nice touch of fantasy wherever they are placed. The ideal location? Undoubtedly on a desk or on a living room piece of furniture to surely spark conversations with your guests! Take the step today. We recommend getting at least three for an energy worthy of its name.
Discover our rock crystal skulls in various sizes, colors, and minerals. Don't hesitate to explore each page of the collection as you might find surprising skulls! A magnificent decorative skull is the element you need.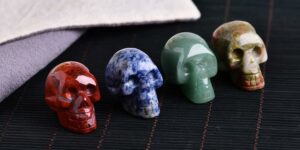 3 résultats affichés