Skull Bandanas
Discover Skull Bandanas like you've never seen before! Quality fabric, original designs, and 100% free standard delivery. They're just waiting for you.
OUR SKULL BANDANAS 💀 Have you ever seen bandanas as stylish as those featuring a skull design? Impossible. The models in this collection assert themselves in your style to offer you an absolutely extraordinary bad-boy look. No need to beat around the bush: they are not made for everyone. Most of our models are quite aggressive, and you will annoy the rest of the world with your completely offbeat style. That's what we want! 😈
Whether you want to use it to tie your hair or cover your face, you will always find it useful. Some even use it as a protective mask, and the smiles on many of their faces will scare away the people you meet, and that's perfect. No one should stand in your way.
BANDANAS SKULLS FOR BIKERS Free spirits riding their bikes will rejoice in these accessories! They are absolutely perfect to wear when you hit the road. Put one over your mouth to protect yourself from mosquitoes and other projectiles before putting your helmet on. We recommend a black and white skull model for a subdued look on the road.
On a motorcycle, your quest for freedom is certain. But you need more than that to truly feel in total freedom. And that's where our bandanas come into play! A man needs to assert his convictions, and for that, nothing beats symbols. The human skull symbolizes different values that are yours, namely: courage, living day by day, solidarity with your own. You protect your family and friends, and you are proud to assert it.
BANDANAS FOR FREE MEN 😎 Don't disappoint your surroundings and also acquire an extraordinary style. The skull bandana on your face, nothing and no one can stop you. Make sure to use it decently because some abuse their powers… The idea of ​​this accessory is often to show the skull that each of us has beneath our skin. Our skull and teeth come to impose themselves over our skin to offer us an absolutely demonic style. It's up to you to play to showcase it in the most beautiful way. 👊
To continue with clothing that honors the skull and the Reaper while keeping you warm, skull sweatshirts are definitely made for you! Bandana around your head, sweatshirt on your shoulders, you're sure to succeed in absolutely every situation that presents itself to you.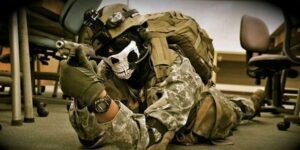 2 résultats affichés