SKULL BRACELETS
The secret to elevating your style to the next level in the eyes of women lies in the forearms. If you're not blessed with Schwarzy's arms, then we recommend making them attractive by using one of our Skull Bracelets! A sleek and sometimes edgy style is waiting for you to take the first step.
OUR SKULL BRACELETS 💀
With a skull bracelet, your charisma will skyrocket. You'll be amazed at how forearms and wrists adorned with skull-shaped bracelets can pique the curiosity of some. At Crâne Faction, you have the chance to choose from a wide range of very different models. Check out our sub-collections, including:
Silver Skull Bracelets
Gothic Leather Bracelets
Steel Skull Bracelets
Skull Bead Bracelets
You have plenty of options to find the perfect accessory and make your wrists and forearms much more attractive. Choose the style that suits you best, in the color that reflects you, and let yourself be carried away by the charisma of these extraordinary jewels!
SKULL BRACELETS FOR MEN
A man like you wants only one thing: power. And power cannot be taken without having the necessary posture! That's why it's crucial for you to adopt a worthy look today. Choosing a skull bracelet is the most beautiful solution available to truly become part of our community. 🔥
We strongly recommend opting for a leather bracelet. Without a doubt, they offer the most charisma to the person wearing them, and for good reason… Leather is very present among bikers, goths, and metalheads. You certainly belong to these rebels, so welcome to Crâne Faction. A leather bracelet with a skull will be perfect to accompany your bad-boy leather jacket, and we encourage you to adopt this pair seemingly straight from hell!
SKULL BRACELETS FOR WOMEN 💁‍♀️
The democratization of human skulls in society now allows us to wear them in many different ways and in every possible situation! This is excellent news for the woman you are. Wearing a silver skull bracelet is perfect if you want to give your look a boost. The energy emitted by the image of a skull is in perfect harmony with who you are, and you want to show it to the rest of the world, so go ahead and select yours now!
SILVER BRACELETS = DEVILISH CLASS
Our silver bracelets are certainly the items we are most proud of among all the products we offer in our online store. They are all made from genuine 925 sterling silver to provide the owner with an unparalleled quality piece and absolutely devilish style.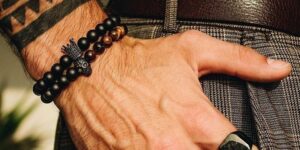 2 résultats affichés